NATIONAL CREDIT CONSULTANTS consists of a group of professional credit restoration and repair experts with backgrounds ranging from careers in credit granting, banking, collections, credit fraud investigating and state licensed recovery agents.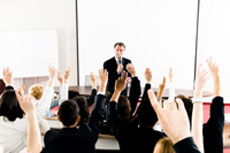 We love what we do and are experts at it. We consistently produce the best results for our customers. There is no other credit repair company that has the depth of knowledge and experience about credit repair and your legal rights than we have.
Our unique system and level of experience has allowed the company to build a reputation of quality and integrity by assisting thousands of clients to improve their credit ratings on a national level.
Many of our credit repair consultants hold national seminars for professionals in the lending industry on credit restoration and repair. We also conduct educational seminars for the consumer on how the credit scoring system "really" works and what credit restoration and repair companies can and cannot actually accomplish.
We initiate a multi-stage process that challenges not only all three credit bureaus, but creditors and collection agencies as well. Most credit repair companies only send out a generic form of a dispute letter, which you could easily do yourself. Not Us! We have a team of highly qualified credit repair consultants that are assigned to each new client based on your credit profile and our credit consultant's area of expertise. In essence, you are paying us to represent you and to obtain for you the highest credit score possible. You deserve the individual attention that is needed to do so and that we provide. We will never take a client if we feel we are unable to help them.
We have been helping clients fix their bad credit and restore their credit scores since 2000. We consistently maintain the highest ethical standards.
National Credit Consultants is in strict compliance with the Credit Repair Organizations Act – the federal law that governs our industry.
We operate nationally and are licensed and registered.