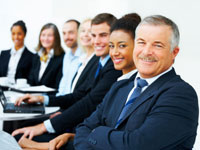 "Our exceptional commitment to providing the best credit repair service and obtaining the highest credit scores possible for each client has made National Credit Consultants the leader in the credit repair and restoration industry. We are the only firm that will assign you a personal credit consultant to handle your case throughout the entire credit repair and restoration process."
National Credit Consultants works with its clients to help them repair and restore their credit reports and scores quickly, effectively, and without all of the headaches!
You will be given a free credit consultation to identify your individual needs on your credit reports. Based on our assessment we will assign you the professional credit repair consultant best qualified in their area of expertise to represent you.
Your credit repair consultant will handle your case from beginning to end of the credit restoration process. You won't have to talk to a different person each time you call.
Please look over the following information and contact us or give us a call with any questions you may have.

Using your consumer rights under the FCRA (Fair Credit Reporting Act). We pull 3 separate credit reports from the 3 credit reporting agencies, Experian, Transunion, and Equifax.
Based on the information on your personal credit report and through our free consultation, National Credit Consultants will develop a multi stage strategic credit repair and restoration plan to address the root of your credit issues and re-establish your credit. Please see our services.

Once we initiate our multi-stage process, rest assured that the leaders in the credit repair and restoration industry are hard at work in restoring your credit.
Our first Stage involves disputing all inaccurate information with the 3 credit bureaus. You can expect results in 30-35 days from initiating a dispute request. Dispute results "first round of disputes" along with an updated credit reports from the 3 credit reporting agencies will be mailed directly to you. Once these dispute results are received and reviewed by your Credit Repair Consultant we dispute any remaining inaccurate items a second time.
After the dispute process we continue to the next stage of our services by addressing any remaining accounts directly with the creditors or collection agencies.
The final stage of our service centers on re-establishing trade lines and credit accounts to maximize your credit scores. We finish by consulting you on ways to improve and maintain your newly revised credit scores.
Our group of credit repair and restoration consultants looks forward to working with you in the future. Please feel free to pass this information along to anyone who may benefit from it.