Most "credit repair" companies only have a one-step system that sends one round of letters to the credit bureaus. You can do this yourself at home. The problem with this method is that there is only about a 10% chance anything will be removed. Even if it was to be removed, when the creditor goes to re-report to the bureaus it will be put right back on your credit report.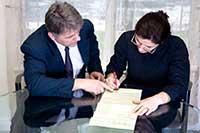 We have a system that goes to the root of the problem to handle it permanently. This in our opinion is the ONLY way to handle the problem. We have a multi-stage process that is tailored to your specific case. You will never find two credit reports alike. If this is so, how can you run a general "fix-all" method? The answer is you can't. Each creditor responds differently to each client. The following are our multi stages.
Free Credit Consultation
You will be given a free credit repair consultation to identify individual needs on your credit report. Based on our assessment we will assign you the professional credit repair consultant best qualified to represent you. Your credit repair and restoration consultant will handle your case from beginning to end of the credit repair and restoration process
Dispute Process
Using the clients consumers right under the FCRA (Fair Credit Reporting Act). We initiate a dispute process on all negative inaccuracies on the credit reports directly with the three major credit reporting agencies Experian, TransUnion, and Equifax. The results are then completed and obtained by the client within 35-40 days. A final round of disputes will follow for any remaining negative inaccuracies.
Cease and Desist Collections Activity Prcoess
Using the client's consumer rights Under the FDCPA (Fair Debt Collections Practice Act), we provide the correct legal letters to stop any and all collections calls to the home or business and also stop the collection agencies from contacting our clients by mail. This process is done in conjunction with the dispute process
Legalized Settlement Alternatives
We assist our clients in settling accounts that are either in collection or charged off and were verified, and were unable to be removed through the dispute process. This is a step above and beyond where any other credit repair company will go.
ReEstablishing Credit
Our final service is reestablishing credit. We use many affiliate financial institutions to help our clients establish positive trade lines and credit accounts on their credit reports.